Everything kids need to create and share their stories!
The biggest leap forward for KID PIX in decades, Software MacKiev's new 3D edition catapults the leading kids drawing and presentation software into the wonderful world of 3D.
With astounding new 3D backgrounds as their "sets", and an amazing cast of 3D characters, kids can create remarkable feature-quality 3D video productions. Using the new video narration feature, students narrate their own animated stories.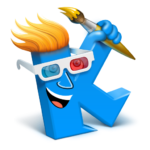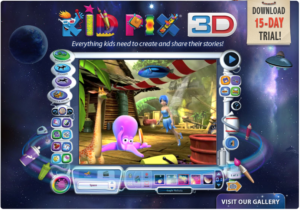 3D Backgrounds
It's easy to set the scene with dozens of gorgeous new multi-layered 3D backgrounds!

Stunning New 3D Animations
Richly rendered fully 3D animated characters and objects, each with its own unique story

3D Stereo Effects
Now your kids can generate true 3D movies for viewing with 3D glasses. Two pairs come in each box! Export in 3D for iPad, iPhone and iPod Touch is also available.

Elegantly Simple Path Animation
Easy to use drag-and-drop path animation tools let 3D characters walk, hop or fly around the screen.

Video Narration
Kids can put themselves in the picture with video narration, using the computer's built-in camera and our new costume frames! And dual audio tracks let them add both narration and music to their stories!

Flipbook Button
Now kids can make stop-action "flipbook" films by adding slides directly to their slide shows – without leaving the paint zone.

Realistic 3D Paint Tools!
Your young artists will love creating pictures with paint that is so realistic you'd think you can touch it!

101 Movie Backgrounds
Video backgrounds provide a touch of movie-making magic to your child's production, whether it's a short clip or a feature-length film.
Purchase KID PIX 3D with edsoft and we simplify the onboarding process for you with local Australian service and extensive knowledge of the Australian education market.